4kW laser cutting machine equipped with material stocker allows operation 24hrs a day without the need for an operator
Since our inception, we have worked to introduce numerical controls into our gas cutting lines ahead of our competitors and have continued to refine our precision cutting technologies, using our own unique programming system to accommodate mass cutting operations through the use of stacking systems and the fabrication of ultra-thick sheet metal for use in excavator parts etc. We have since made the transition to laser cutting lines capable of cutting through thick sheet metal and developed our own unique CAD/CAM system. This has enabled us to achieve increased operability through labor savings and increased efficiency as a result of high-quality cutting and automated operations, making it possible for us to meet all of our production deadlines.
Fiber laser
Features of the fiber laser cutting system
1.Energy efficient

Compared to CO2 laser cutters, there are no consumables, such as "laser gas" and "optical mirrors". They also use less power, making them more environmentally friendly.

2. Optimal specifications for cutting "large metal sheets with a uniform length" and "mid-range materials"

The machine that accommodates large metal sheets up to 7x 20 and the machine cover ensure safe operation of the fiber laser. This enables stable cutting operations on mid-range materials.

3. Combined stocker system increases productivity

It is possible to add an expandable stocker and pallet changer system to the cutting machine. This realizes automation of a diverse range of cutting systems to increase productivity.

6kW integrated model:2
4kW integrated model:1
2kW integrated model:6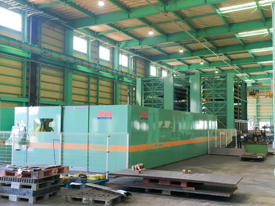 NC Gas Cutting Equipment
High-precision cutting of sheet metal up to 16mm – 300mm
Increased efficiency with gas cutting for thick sheet metal and simultaneous cutting using multiple suction tubes.

Rail Span 7.8m:3
Rail Span 6.2m:1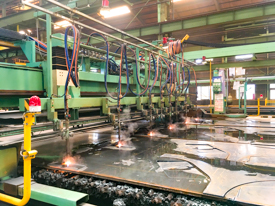 Plasma Cutting Equipment
Cutting for speed and precision
High-quality, high-precision cutting for our most common order thickness of between 9mm-22mm with the speed of plasma cutting.

240A:1
400A:2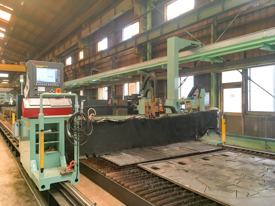 Finishing Machines
Finishing off the upper edges of the cut sheet metal
Finishing machines are used to grind the upper edges of the cut sheet metal and pre-treat them in preparation for painting.

Automatic finishing machine:3
Shot blasting machine:1